News
Australian Plumbing Industry magazine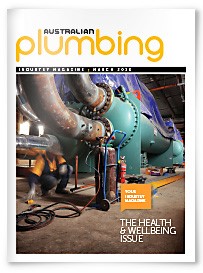 For over 25 years, Australian Plumbing Magazine has been the industry's leading publication, delivering independent coverage of news, events and issues directly affecting the industry.
Australian Plumbing Industry is the forum for the plumbing industry. Editorial focuses on key topics including government policies, green and sustainable technologies and practices, construction, new product reviews and business profiles.
Published quarterly, Australian Plumbing Industry magazine is received by key industry stakeholders including:
Leading plumbing contracting companies
State and federal government departments
Metropolitan and regional councils
Construction companies
Independent plumbers
Industry specialists
Environmental consultants
Educational institutions, TAFE and technical colleges
Trade suppliers
OHS offices
http://www.australianplumbingindustry.com.au/
eConnections is a bi-monthly email newsletter distributed by Consumer, Building and Occupational Services. Subscribe to receive regular plumbing, building, gas, electricity and occupational licensing related updates, information and news.
To subscribe to eConnections go here https://cbos.tas.gov.au/topics/resources-tools/connections-magazine
To view previous eConnections go here:
https://cbos.tas.gov.au/topics/resources-tools/connections-magazine#Previous%20editions%20of%20Connections%20magazine
World Plumbing Day
Did you know that 1.1 billion people lack access to a safe clean water supply and 2.6 billion do not enjoy the use of effective sanitation systems? The tragic result is 3.1 million children die each year as a result of diseases that could have been prevented if only the children had access to basic facilities, according to the World Health Organisation. There is nothing more important than clean drinking water and good basic sanitation to keep the world and the people who inhabit it healthy.
World Plumbing Day (WPD) is an international event on March 11 every year, initiated by the World Plumbing Council as a means of highlighting the important role plumbing plays in the health, safety and sustainability of our community. Visit www.worldplumbing.org for more information.